BR-B5D Thermal Overload Relay / Motor Thermal Protection Switch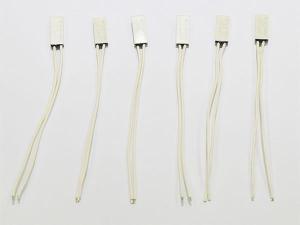 BR-B5D series thermal overload relay / motor thermal protection switch is applied in the overcurrent protection system of air conditioner motor (≤ 0.5hp), transformer, ballast, and other electric devices. Casing of the thermal protector is made from PBT plastic, which is of high temperature resistance and high thermal conductivity.
Features
1. For a circuit controlled by thermal overload relay, the contacts will separate and leads the circuit to cut off automatically when the temperature rises to a certain value; and it will reset automatically when the temperature falls to the allowable range
2. Capacity of contacts: 8A/24V DC, 8A/125V AC, 5A/250V AC
3. Opening temperature: 50-150℃, in increment of 5℃; tolerance of opening temperature: ±5℃
4. Certificate: UL, VDE, CQC
Changsheng is a leading motor bimetal thermal protector manufacturer and supplier, offering various thermal switching products to meet many electric motor thermal overload protection needs. Our company offers a wide range of air conditioner motor protector, electrical ballast protector, transformer protector, and the thermal protection products have passed many certificates like UL, VDE, KC, CE, CQC.
Index
Induction Motor Thermal Switch, Bimetal Thermal Protector
Transformer Protector, Electrical Ballast Thermal Protection Switch