BRS Thermal Overload Relay / Motor Thermal Protection Switch
BRS series thermal overload relay / motor thermal protection switch is a kind of circuit protection device. It is mainly placed external to a motor body to protect motor from burning out. This thermal cutout employs bimetal as the temperature sensing element, featuring large overload current and swift response. With an open structure, it is easy to be installed. Typical application of the thermal protector includes automobile motor and compressor motor.
Specification
1. Capacity of contact: DC 12V/50A, DC 12V/60A, DC 12V/80A, DC 12V/100A
2. Opening time: 2-50s (upon clients' request) under room temperature (25℃)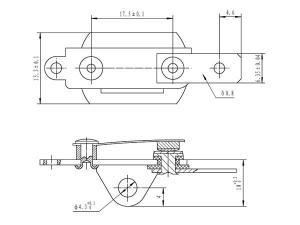 Note
Don't touch the bimetal or other temperature sensing elements when you are installing or using the thermal overload relay, or it may be inaccurate.
Changsheng is a leading motor protection switch manufacturer, offering various thermal switching products to meet many electric motor protection needs. Our company offers a wide range of automotive motor protector, compressor motor protector, and the thermal protection products have passed many certificates like UL, VDE, KC, CE, CQC.
Index
Induction Motor Thermal Switch, Thermal Protector
Vehicle Motor Thermal Protector, Air Conditioner Motor Protector