18AM-C Thermal Overload Relay / Motor Thermal Protection Switch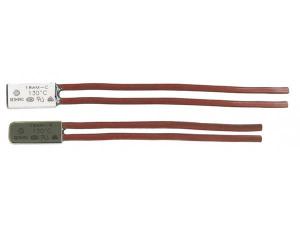 18AM-C series thermal overload relay / motor thermal protection switch is a circuit protection device mainly applied in AC single-phase motor (50Hz, 220V) to protect motor from overload or stalling. It is also applicable in air conditioner motor and battery, etc. Depending on the temperature sensing of bimetal and the current thermal effect, the circuit breaker enables the state of bimetal to change rapidly and thereby leading the circuit to open automatically. This thermal protector features small volume and high sensitivity.
In an electric circuit, a thermostat sensor works by forcing the 2 contacts to separate when it detects that the temperature has reached the max point, and allowing the contacts to touch when the temperature falls to the normal range.
Difference between 18AM-B and 18AM-C
18AM-B and 18AM-C series is collectively called 18AM series. They share the similar property, performance, and internal structure. The difference is in the casing. The casing of 18AM-B thermal switch is made from stainless steel (used in conjunction with insulating sleeve), and 18AM-C thermal overload relay adopts insulated plastic enclosure.
Feature
1. 18AM-B thermal protector is designed with plastic insulating casing, without the need of insulating sleeve. Its volume is relatively smaller than that of 18AM-C
2. The max capacity of contacts: AC 250V/8A (6000 times of service); AC 125V/12A (6000 times of service)
3. Opening temperature: 50-130℃, in increment of 5℃; tolerance of opening temperature: ±5℃
4. Standard wires: UL3266 #22, white, 70mm; wire length and the length of stripping is customizable
Changsheng is a leading motor thermal protection switch manufacturer and bimetal thermal protector supplier, offering various thermal switching products to meet many electric motor thermal overload protection needs. Our company offers a wide range of electric motor protector, battery protector, air conditioner motor protector, and the thermal protection products have passed many certificates like UL, VDE, KC, CE, CQC.
Index
Induction Motor Thermal Switch, Bimetal Snap Action Thermal Protector
Battery Protector, Vehicle Motor Thermal Protector
Air Conditioner Motor Thermal Protector